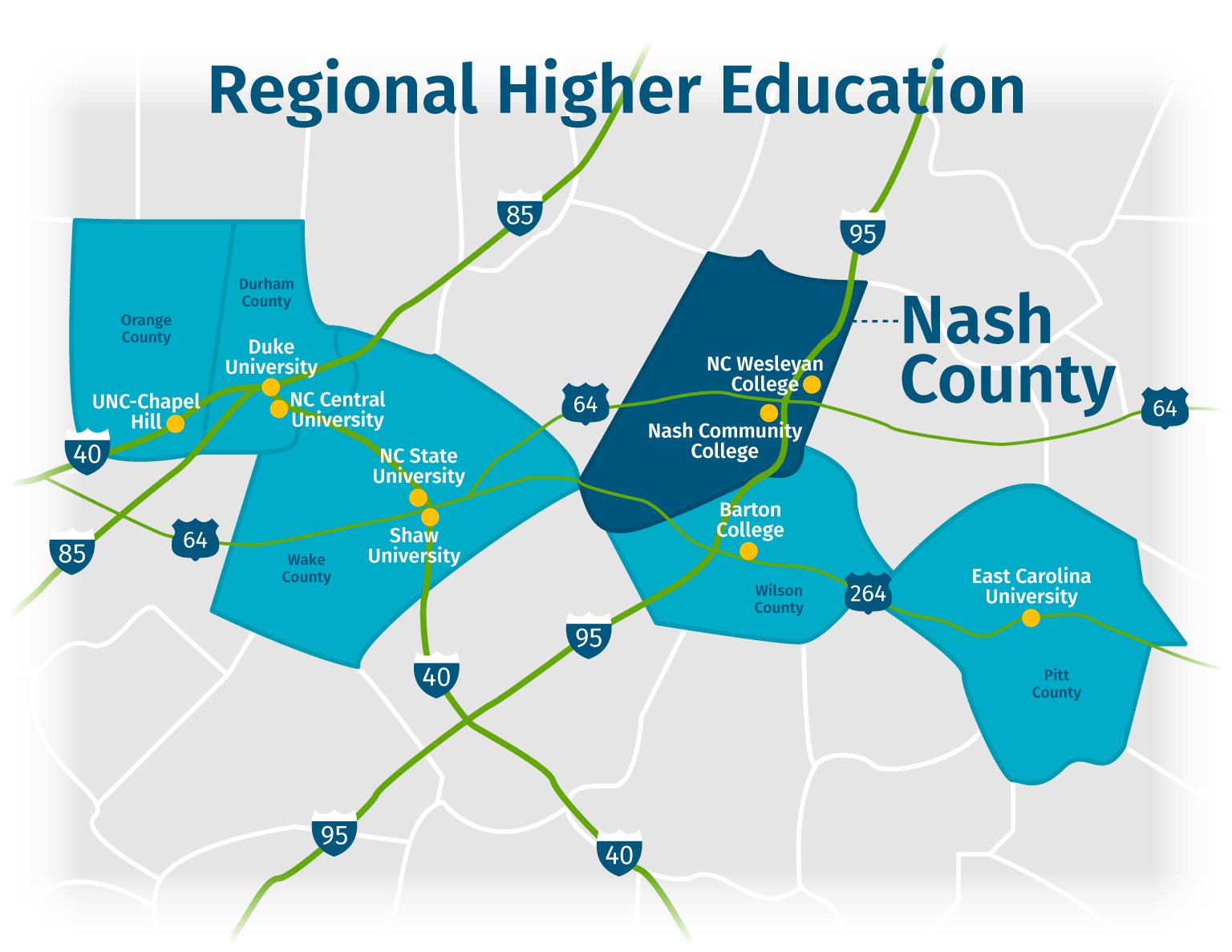 EDUCATION
Nash Community College
Nash Community College (NCC) consistently ranks as one of the top community colleges in the state. As a comprehensive college, NCC provides a multitude of educational programs and continuing education opportunities to support growing industries. Technical and vocational courses provide a prepared and educated workforce for the area. NCC is an excellent partner and resource when it comes to providing customized training in the fields of advanced manufacturing, electronics, life sciences, and biopharma.
North Carolina Wesleyan College
North Carolina Wesleyan College (NCWC) is a 4-year, private liberal arts college with over 1,200 students. NCWC's international and domestic students focus on areas of study in education, biology, and technology. Tucked away in small close-knit campus, students develop valuable skills while pursing higher education.
Nash County Public School System
The Nash County Public School (NCPS) System focuses on preparing all students for bright and prosperous futures by deliberately and intentionally providing rigorous and relevant instruction in every classroom, every day. NCPS serves more than 15,000 students from Pre-K to High School, across 29 campuses.
Regional Colleges and Universities
HEALTHCARE
Nash UNC Health Care
Nash UNC Health Care is a county-owned, not-for-profit health care system that has an unbroken record of accreditation by the Joint Commission. Nash UNC has a diverse staff of approximately 180 physicians who provide first-class health and medical care. Nash UNC has 345 beds and is comprised of four licensed hospitals: Nash General Hospital, Nash Day Hospital, Coastal Plain Hospital, and Bryant T. Aldridge Rehabilitation Center. With the continuing advancement of technology, Nash UNC has grown include the Danny Talbott Cancer Center, Emergency Care Center, Heart Center, Mayo Surgery Pavilion, and the Women's Center.
Nash County Health Department
There are two public health department locations in Nash County which offer many services in an effort to keep our residents and community healthy. Nash County Health Department serves all Nash County residents and strives to prevent diseases, detect and treat health problems early, and promote healthy lifestyles. The Nash County Health Department offers confidential services at no cost or on a sliding fee scale and includes environmental health staff, solid waste program staff, animal control staff, health education and planning staff, and clinical services staff.