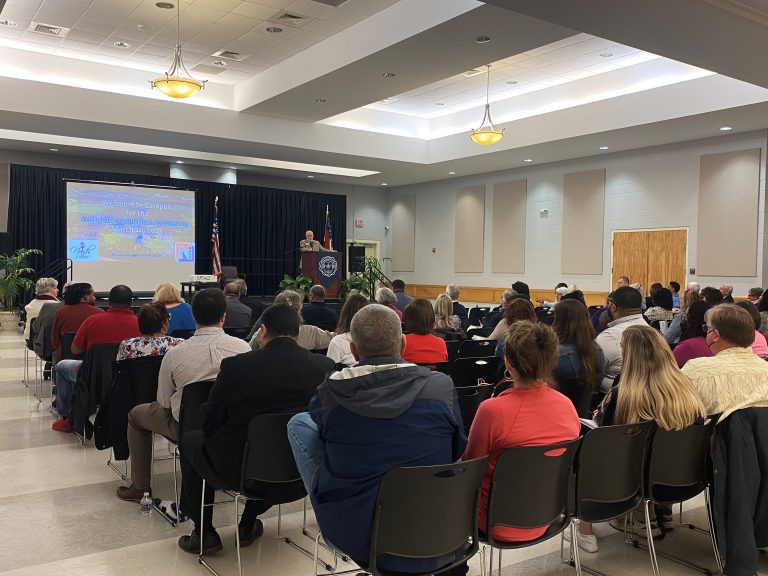 Nash County Public Schools and Nash Community College launched a renewed workforce development partnership at an event held at the college on Friday, March 10, 2023. NCPS and NCC are working together to address the local labor shortages and skill gaps. With area business and industry partners in the room, the school system and college explained how they plan to better prepare recent graduates for work after high school through the new WIN Academy.
Approximately half of local high schoolers have not decided on their college or career path," NCC President Dr. Lew Hunnicutt said. "Our job is to prepare students with the custom skills needed to work in local business and industry. But we also have an obligation to teach non-technical power skills needed to be successful in their career."
The Work in Nash (WIN) Academy is a three-week program immediately following high school graduation to educate students on the skills required to be successful in the workplace. "This concept is a win for Nash County and an answer to the worker shortage we are currently facing," Hunnicutt said.
"The WIN Academy is another option we have for our students," Nash County Public Schools superintendent Dr. Steve Ellis said. "I look forward to continuing the great partnership with NCPS and NCC. Uniting together will build a better student and a better Nash County. I look forward to this new endeavor."
Rocky Mount High School, Northern Nash High School, Nash Central High School and Southern Nash High School will each host a WIN Academy, and students will attend the academy at the same high school from which they graduated. Academy cadets will meet five days a week for four hours per day over the course of three weeks. Emphasis will be placed on teaching power skills such as time management, critical thinking, communication and more.
Part of area business and industry's commitment to the academy will be guaranteed interviews for individuals who successfully complete the WIN Academy. "Having these relationships and interviewing experience will greatly enhance the graduates' chance to become employed locally in their career of interest." Hunnicutt said he believes the students are an important renewable workforce resource for Nash County. Businesses will gain exposure to eager potential employees each year with priority access to academy participants.